I have nothing useful to say tonight, I simply cannot concentrate. However, I will post some pictures of myself and my family- so you have an idea of whom you are "talking" to.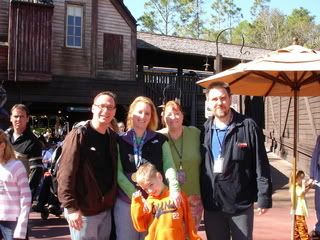 Left to right:
Robb my DH, Me,
DS
, Char, and Andy. I will be travelling with Char and Andy on this cruise. This was the day after I finished the half marathon at
WDW
January 2006. That is my natural hair color- you will understand the significance of this comment later...
This is me scuba diving in St.
Kitts
September 2006, on the 11 night Southern Disney Cruise.
This is me after climbing all 2,109 stair of the tallest building in the United States:
The Sears Tower Building
in Chicago. I also raised a very nice sum of money toward cancer research with the help of my friends from the 11 night September
DCL
cruise.
In December, my hair took a turn towards the dark side:
I can't exactly tell you why I went black. I had always wanted to see what I would look like with black hair and I knew my parents wouldn't approve. (Which they don't) Some how I've realized that I really am an adult and can do what I want.....